FOR TRUCK & VAN
ORIGINAL BRAKE PAD GAB
Our Original Brake Pad
GAB
Ultimately reliable "braking feel"
GAB project series 04

THE TRUCK & FOR VAN
High-spec brake pad for trucks and vans
This innovative brake pad is the result of a combination of the experience of the Chinese manufacturer who has gained extensive knowledge of the performance requirements of vehicles traveling across the vastness of the Chinese mainland together with the precise know-how cultivated by the Japanese manufacturer. Experience the excellent durability and braking power required for commercial vehicles.
High-quality
Asbestos free
High braking performance
Dust control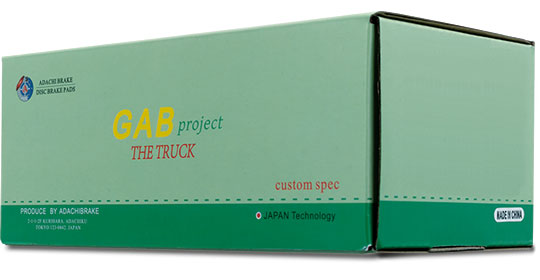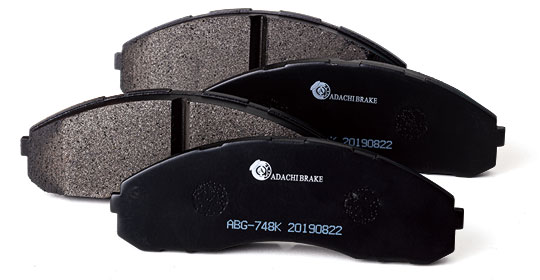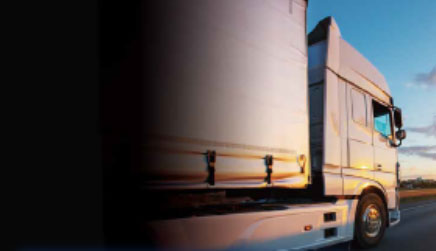 We started the GAB project for developing and supplying products with higher safety and better cost performance in line with Japanese standards.
This project is joint R&D between Adachi Brake, an trusted company operating in Tokyo, Saitama, Chiba, and Ibaraki prefectures since 1954, and GLORY, a pioneer in production of brake parts based in Guangdong Province, China.
GLORY is a trusted brand with a network of brake parts development, production, and sales not only in China but also all over the world.
Compatibility Table
| NO | Part number | Manufacture | Applicable model | |
| --- | --- | --- | --- | --- |
| 1 | ABG-617WK | Elf, Dutro | XZU404 NKR81 | May 2004 model - |
| 2 | ABG-627WK | Dyna, Dutro | XZU308 XZU334 | May 2004 model - |
| 3 | ABG-633K | Vanette, Bongo | SK82VN SKF2TN | June 1999 model - |
| 4 | ABG-665WK | Caravan | NV350 VWE25 | August 2007 model - |
| 5 | ABG-682K | Canter | FB70B FD70B | July 2004 model - |
| 6 | ABG-700K | Canter | FE83C FE73D | February 2004 model - |
| 7 | ABG-701K | Canter | FE73B FE82B | April 2004 model - |
| 8 | ABG-707K | Hiace | KDH200 TRH200 | August 2004 model - |
| 9 | ABG-721WK | Elf | NKR81 NKR85 | May 2004 model - |
| 10 | ABG-748K | Dyna, Dutro | XZC605 645 655 | June 2011 model - |
| 11 | ABG-752WK | Atlas | TZ2F24 TZ3F24 | June 2007 model - |
| 12 | ABG-767WK | Vanette | NV200 | May 2009 model - |
| 13 | ABG-770K | Canter | FB70B FD70B | May 2009 model - |
| 14 | ABG-774WK | Canter | FE74B FE71D | May 2009 model - |
| 15 | ABG-775WK | Canter | FE70B FE71B | May 2009 model - |
| 16 | ABG-779WK | Canter | FBA00 | November 2010 model - |
| 17 | ABG-780WK | Canter | FEA20 FEB20 | November 2010 model - |
| 18 | ABG-781WK | Canter | FBA20 FEA70 | November 2010 model - |
| 19 | ABG-782WK | Canter | FBA20 FEA70 | November 2010 model - |
| 20 | ABG-799WK | Elf | NJR85 NLR85 | April 2013 model - |
| 21 | ABG-800WK | Elf | NMR85 NKR85 | February 2006 model - |